Last week our institution pivoted towards measures to keep teaching going and people safe during the COVID-19 pandemic. Colleagues across the Group have been working hard to roll out guidance and measures to ensure teaching can be delivered online. This includes technical guidance on use of our VLE and other online learning technologies, and remote teaching and assessment.
Paul Greening (Associate Dean for Student Experience; Faculty of Engineering, Environment and Computing) had the idea to complement this ongoing technical and academic development guidance with a 'cheat sheet' of behaviors and attitudes to be mindful of while engaging students in learning online. Our team took this idea on and worked with Paul to develop the guidance found below.
These six headings intend to place a focus on care in this new remote teaching context and offer reassurance to staff having to do the tough work of urgently redesigning learning activities. This guidance has now been shared across the Group, in both formats found below.
Image format: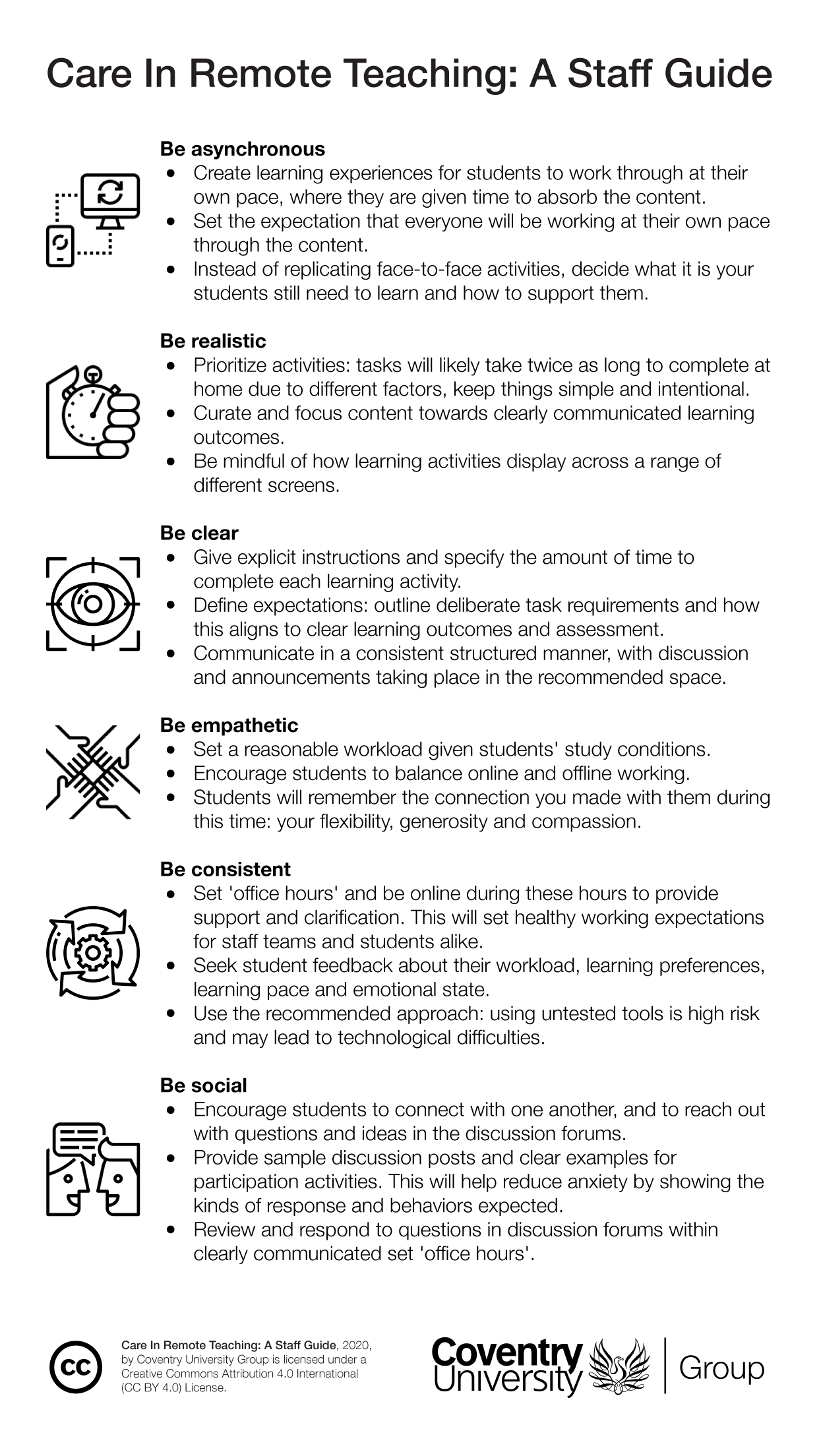 Text format:
Care In Remote Teaching: A Staff Guide
Be asynchronous
Create learning experiences for students to work through at their own pace, where they are given time to absorb the content.
Set the expectation that everyone will be working at their own pace through the content.
Instead of replicating face-to-face activities, decide what it is your students still need to learn and how to support them.
Be realistic
Prioritize activities: tasks will likely take twice as long to complete at home due to different factors, so keep things simple and intentional.
Curate and focus content towards clearly communicated learning outcomes.
Be mindful of how learning activities display across a range of different screens.
Be clear
Give explicit instructions and specify the amount of time to complete each learning activity.
Define expectations: outline deliberate task requirements and how this aligns to clear learning outcomes and assessment.
Communicate in a consistent and structured manner, with announcements and discussion taking place in the appropriate online space.
Be empathetic
Set a reasonable workload given students' study conditions.
Encourage students to balance online and offline working.
Students will remember the connection you made with them during this time: your flexibility, generosity and compassion.
Be consistent
Set 'office hours' and be online during these hours to provide support and clarification. This will set healthy working expectations for staff teams and students alike.
Seek student feedback about their workload, learning preferences, learning pace and emotional state.
Use the recommended approach: using untested tools is high risk and may lead to technological difficulties.
Be social
Encourage students to connect with one another, and to reach out with questions and ideas in the discussion forums.
Provide sample discussion posts and clear examples for participation activities. This will help reduce anxiety by showing the kinds of response and behaviors expected.
Review and respond to questions in discussion forums within clearly communicated set 'office hours'.
Care In Remote Teaching: A Staff Guide, 2020, by Coventry University Group is licensed under a Creative Commons Attribution 4.0 International (CC BY 4.0) License.